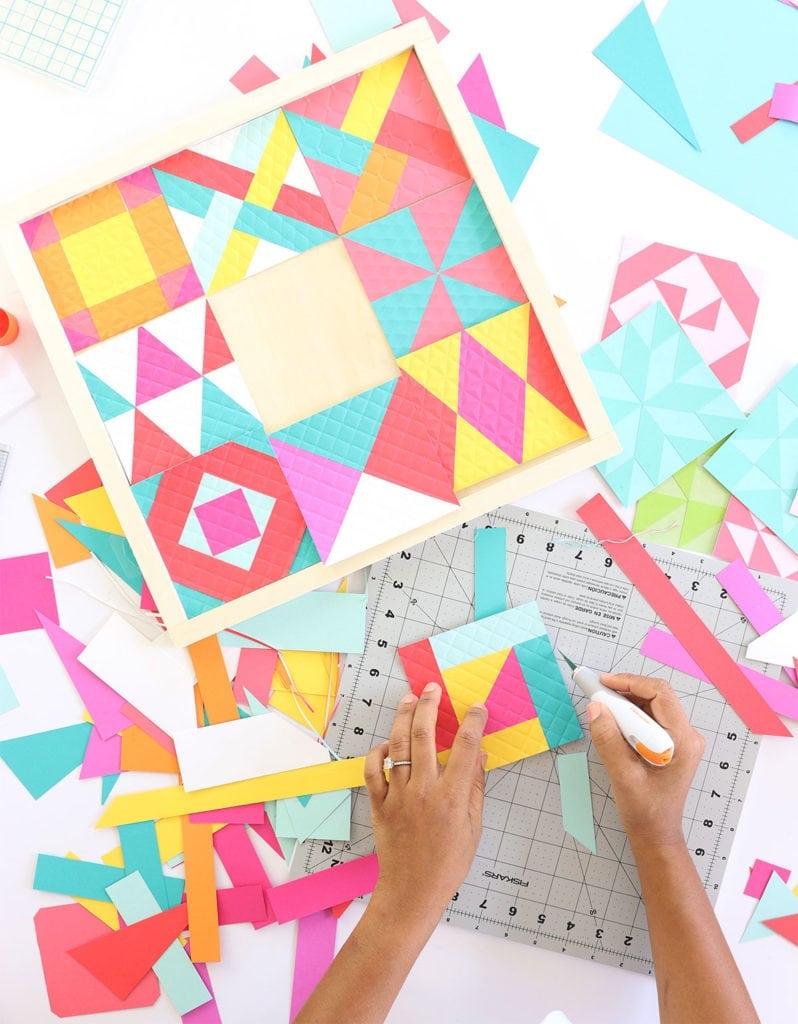 I've crafted on television before but nothing really prepares you for crafting in a competition…on television…on a show with Amy Poehler…and Nick Offerman…and two judges who will decide your fate. Yeah. Nothing prepares your for being on NBC Making It.
When I arrived to the set of Making It, I thought for sure I'd know at least one of my fellow craftmates. I think I was sort of hoping to know someone. The same way you hope one of your classmates goes to the same summer camp as you – so you won't have to eat lunch alone or go to the pool on your own. Because, let's be honest, there's nothing worse than wearing your new bathing suit in front of a bunch of summer camp strangers, right? Well, it turned out that I knew exactly zero of the Making It cast members and instead of sporting my new summer two piece, I would be displaying my DIY know-how for all to see and all I could think was: "This group is surely more skilled and talented than me. I mean, Billy looks like a jack of all trades, I overheard Jeff saying something about paper quilling and Khiem has a tattoo of a film strip on his arm, which definitely makes him the most ride-or-die creative person I've ever met." I'll spare you the remaining internal monologue but I'm sure you can fill in the rest. Moral of the story is this: when you land on a crafting competition show, there's a palpable nervousness in the air as you prepare to show all your cards…or in this case, your crafts.
By now, you've seen the premiere episode of Making It, where Nick and Amy challenge us to first, create a 3D animal representation of ourselves (our Secret Beast) and later, create a modern interpretation on a family heirloom quilt and photo album. Yeah – just your average, everyday timed crafting challenge. No biggie. Are you sensing the sarcasm here?
Fortunately, nothing forges friendships faster than being confined to a barn with a group of likeminded makers who've been issued the same challenge. But even as the jokes and stories fly across the room, you've gotta stay focused. In my case, that meant staying focused on one particular paper quilt that just wouldn't quit. Through the beauty of television and for the sake of your sanity, hours of quilt crafting were trimmed down to mere minutes (I can assure you there is nothing riveting about thirteen hours of cutting and embossing square pieces of paper) – but if I know you like I think I know you, there's a part of you that is curious about the nitty gritty details of that paper quilt. You want to talk shop about that quilt and how it came together. Or maybe it's just me and my chronic need to overshare. Either way, we're about to dive deep into paper quilting, because when else am I going to have a chance to talk about the time I made a paper quilt on NBC.
Nothing forges friendships faster than being confined to a barn with a group of likeminded makers who've been issued the same challenge.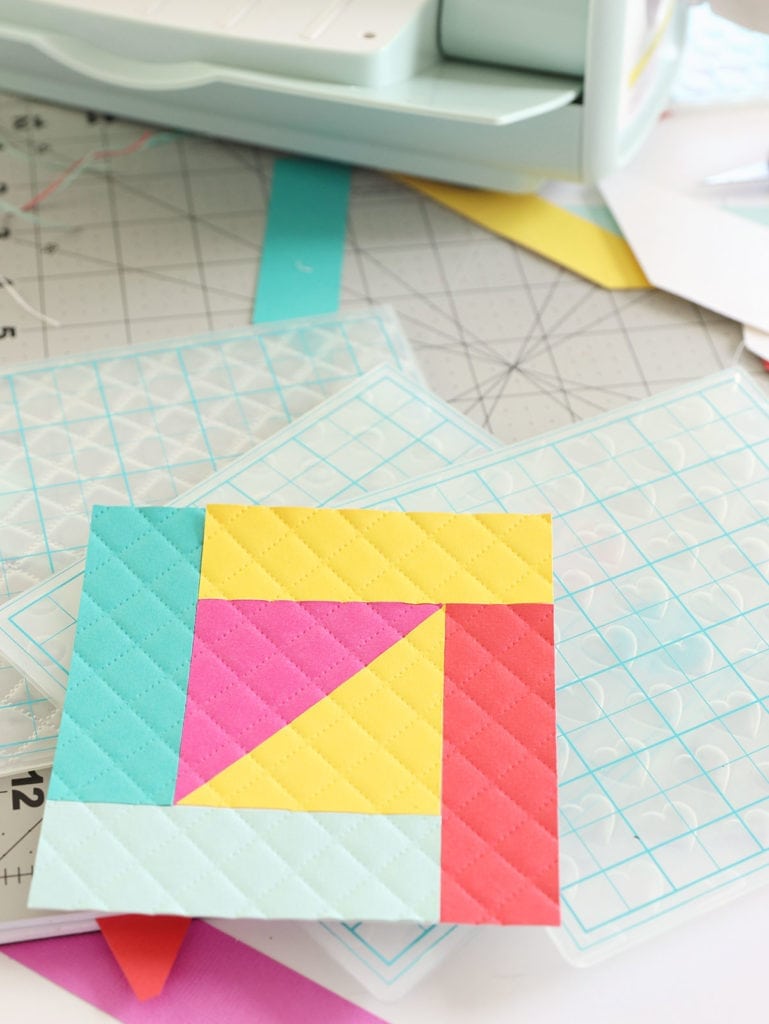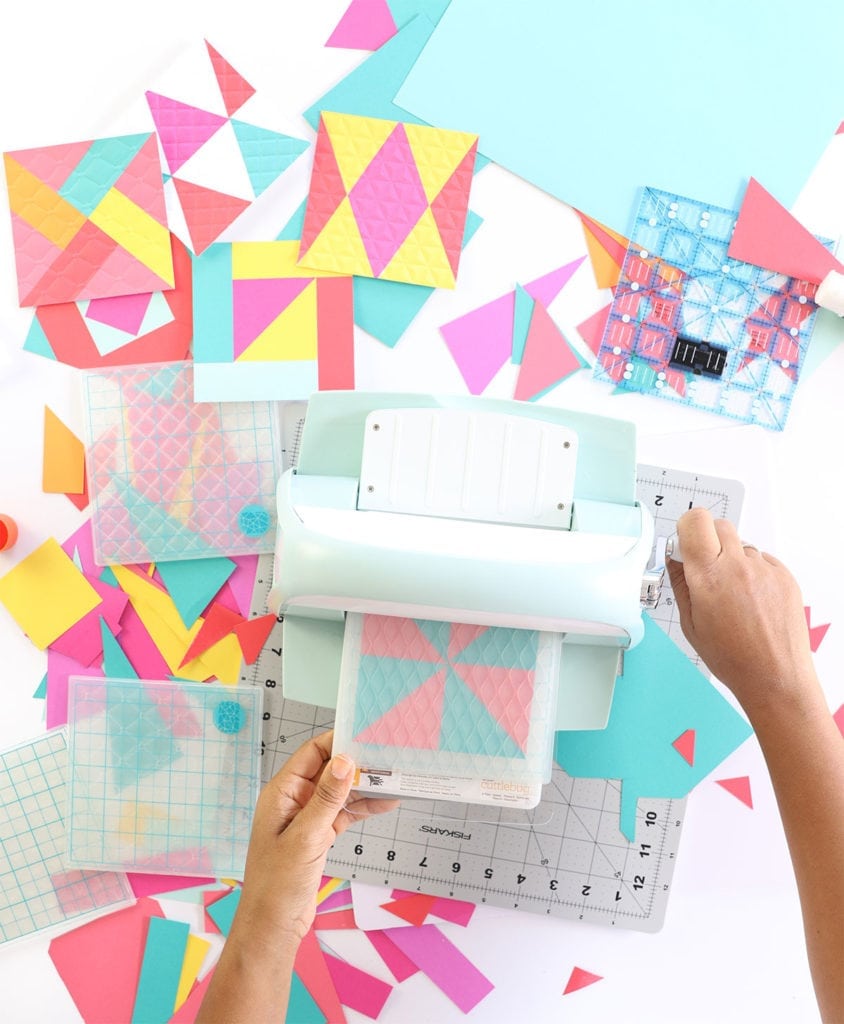 For my heirloom paper quilt, I cozied up to a stack of cardstock and got familiar with my craft knife for the better part of 8 hours. No kidding. It was a challenge unlike anything I've tackled before. Each piece of each quilt block had to be cut by hand and assembled like a puzzle. After that, I used a manual die cutting/embossing machine to emboss each block – that's what made the paper look like fabric. I'm still pretty obsessed with how these turned out. On the show, I stitched the entire quilt together with gold thread. I loved the way it turned out but let me go on record now as saying I will never do this again. If someone asks me to do it, I will promptly ask for her social security number, her mother's maiden name and her left ovary.
I used an…embossing machine..that's what made the paper look like fabric
Now that it's been some time since I created that paper quilt on national television, I did muster up the chutzpah to give paper quilting another whirl – but this time on a smaller scale.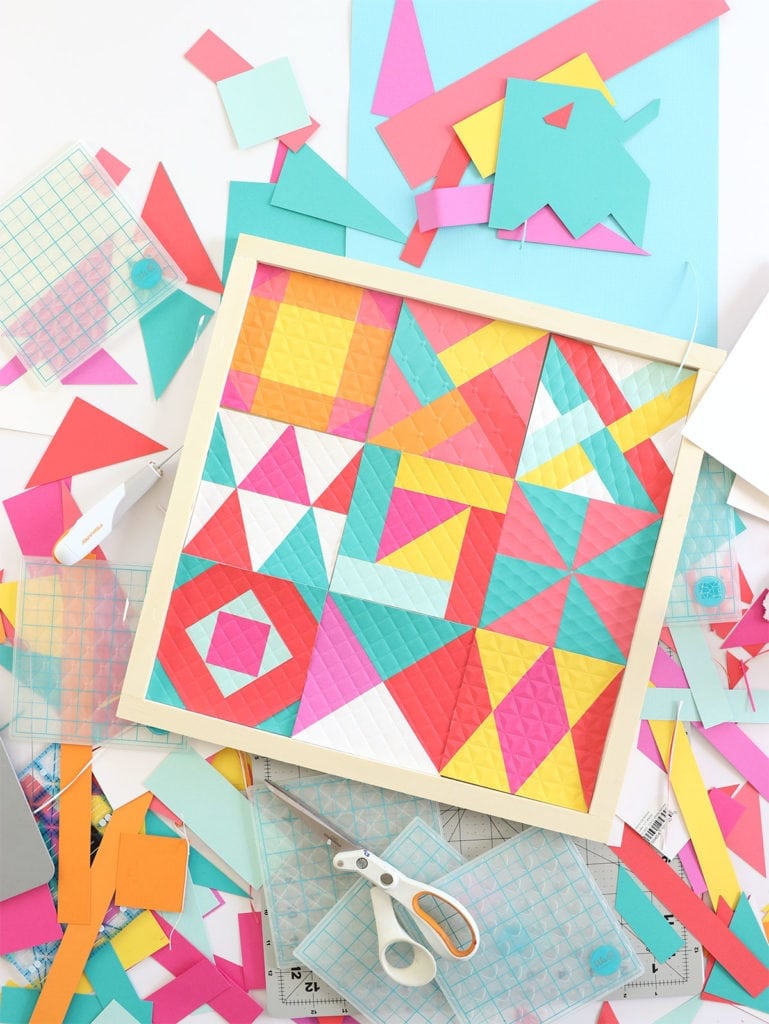 This time around, I created nine blocks and placed them in a frame. I used the same cutting and embossing technique as I used on Making It, but dialed back the time commitment significantly. If you're itching to create your own paper quilt, I'd suggest picking out five or six colors of cardstock and sticking to that color scheme throughout. This will give your project a cohesive look .
Pick out five or six colors of cardstock…this will give your project a cohesive look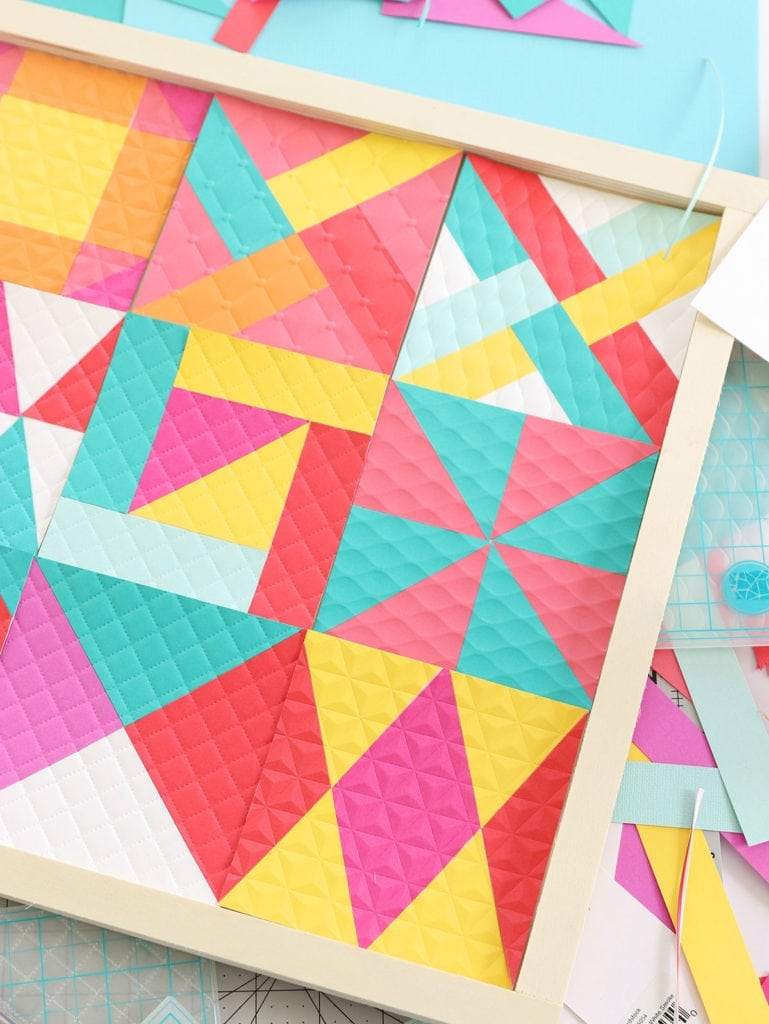 If you're looking for an even easier solution, you can create a knockoff version of this paper quilt by grabbing your Cricut machine and downloading a quilt block SVG on Etsy. Just search "quilt block svg," upload the file into Cricut Design Space, and cut it out on your machine. The result won't be quite as colorful or intricate but you will have saved a lot of time!
Search "Quilt Block SVG" on Etsy to get a similar effect in less time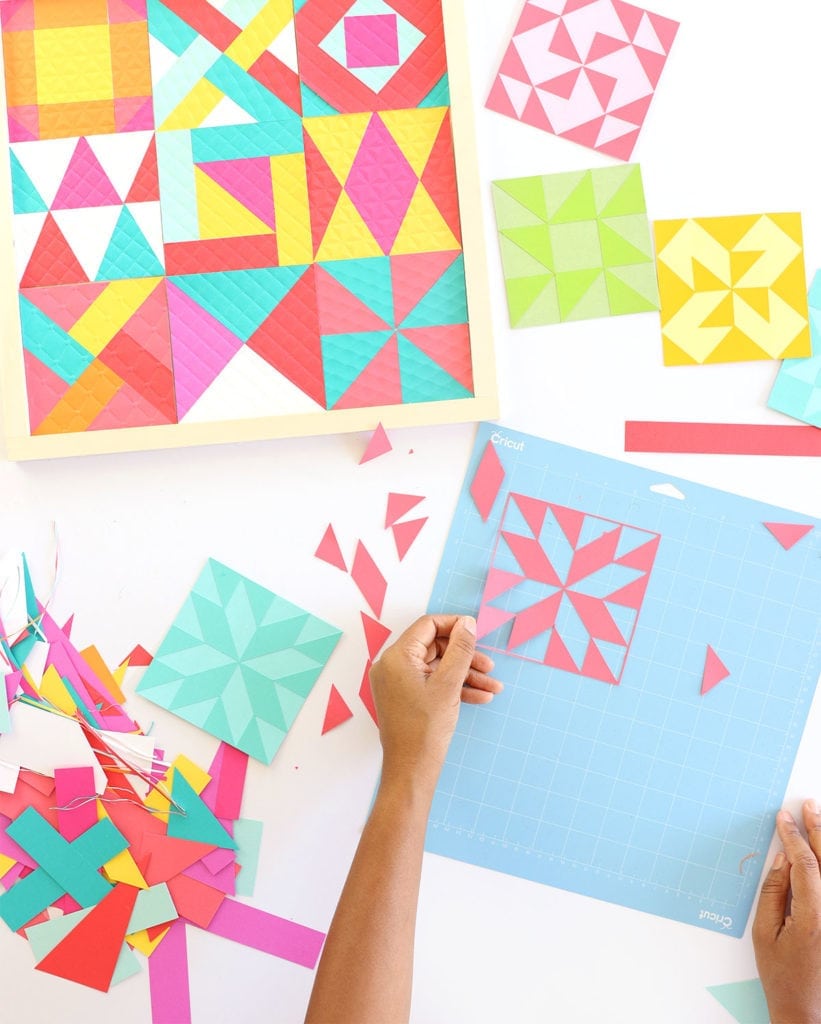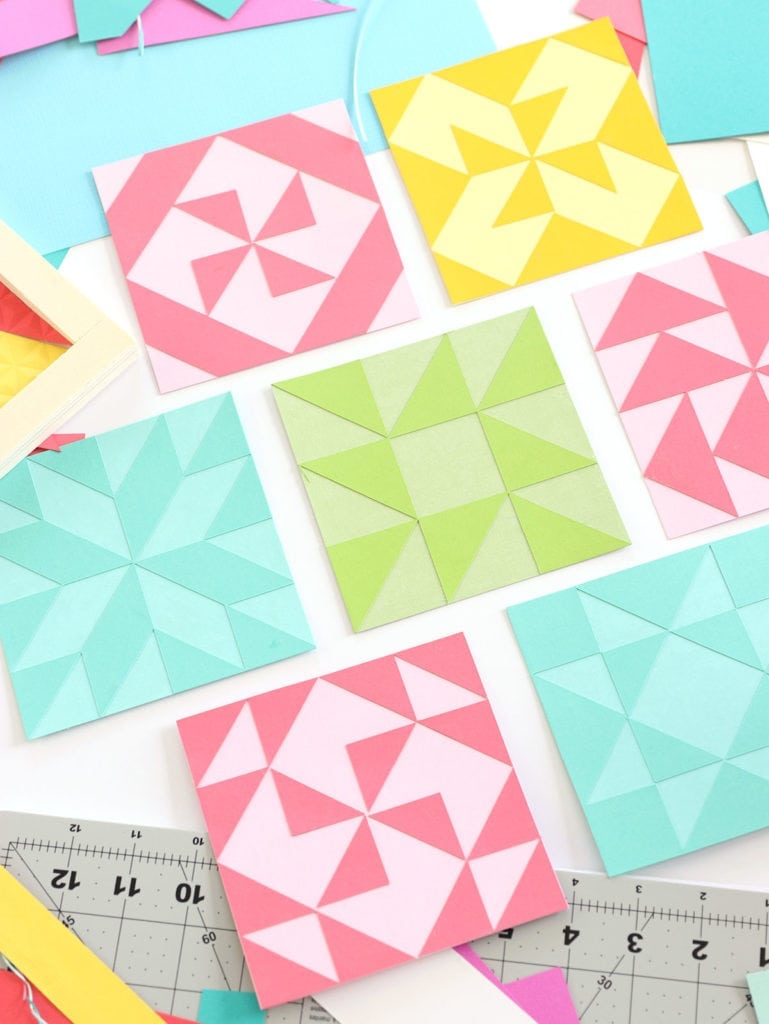 Never did I think I would (or could) make something as time consuming and intricate as that paper quilt, but I did it and loved it. I guess that's what Making It really boils down to – challenging our creative minds to do the unthinkable.
…or maybe they just wanted to see what happens when eight strangers are picked to work in a barn to find out what happens when people stop being polite and start getting crafty…or something like that.
Read more: damasklove.com